Oh, what a night! Arrogate stuns on memorable World Cup card
26 March, 2017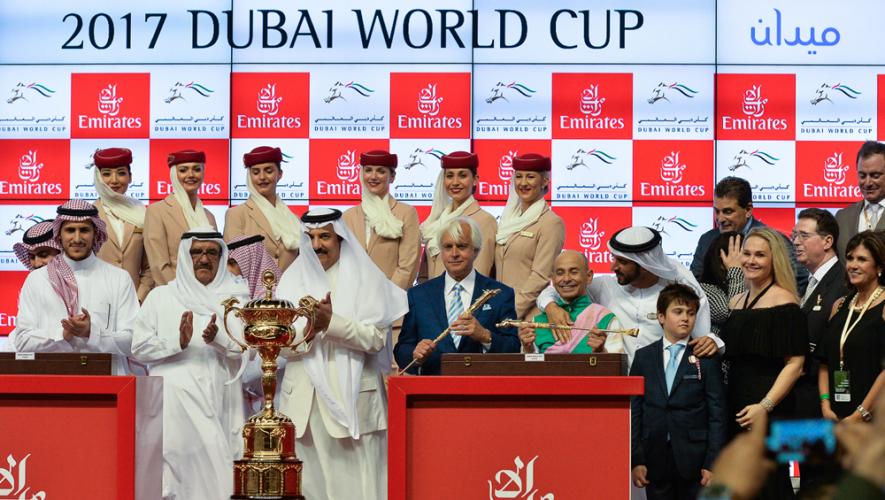 Until this weekend, I had always believed the best card of racing I had witnessed was Breeders' Cup Day at Belmont Park, New York, in 1990. Now I have found one to rival it.
Yes, the meeting that featured Lester Piggott winning on Royal Academy, the brilliant Dayjur jumping a shadow and throwing away certain victory, and great fillies Go For Wand and Bayakoa in a tragic head-to-head, now has competition.
Saturday's World Cup card at Meydan was one of the very best in a series of 22 staged in Dubai. It was also one of the best I have been privileged to see.
It had everything - drama, excitement, great individual performances from horses and riders - and a climax befitting the world's richest raceday.
Trainer Bob Baffert had issued a pre-World Cup warning that his great champion Arrogate had a secret weapon - a gigantic, loping stride.
What Baffert almost certainly didn't know at that point was that Arrogate would be last of the 14 G1 World Cup runners into stride, and giving the leader around 20 lengths start with under a mile to travel.
A popular theory is that Arrogate was slowly away because he was not accompanied by a gate attendant. Whatever the reason, he and his partner Mike Smith looked to face an impossible task to win.
But, steadily they passed the opposition, picking them off one by one. In an incredible, sustained effort, they surged into the lead 50 yards out, and Arrogate galloped on to one of the most memorable triumphs in the big race.
Race commentator Terry Spargo, calling his final World Cup, put it into historical context when asking whether Arrogate was the 21st Century Man O'War.
Godophin's Thunder Snow and Jack Hobbs were two others, who delivered performances that were also stunning in their own right, yet pointers to exciting targets on the horizon.
His Highness Sheikh Mohammed confirmed that the G1 Kentucky Derby at Churchill Downs "is an option" for Thunder Snow, winner of the UAE Derby, and it is difficult to see how Godolphin can resist the temptation of going down that route after analysing this gutsy performance.
Thunder Snow was the highest-rated two-year-old trained in Britain last season and the Kentucky Derby is an alluring target for a colt of his talent.
Jack Hobbs, the winner of the G1 Irish Derby in 2015, made a great comeback to the big time by taking the G1 Dubai Sheema Classic, a victory that owed much to the cool, mature ride of Godolphin jockey William Buick, who held on to his mount as long as possible before going for home.