Cross Counter realises a Melbourne Cup dream for Godolphin
6 November, 2018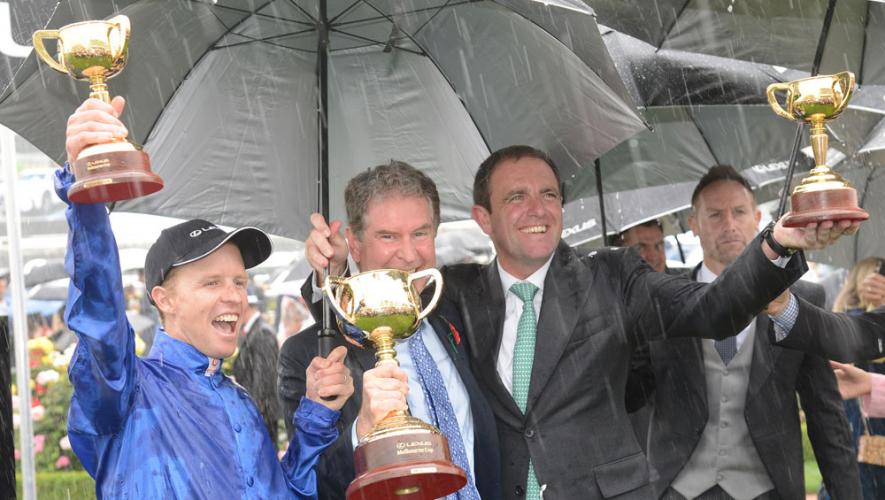 Thirty years of persistence, patience and conviction had their spectacular reward when Cross Counter won the G1 Melbourne Cup for His Highness Sheikh Mohammed, Godolphin and Darley at Flemington, Australia, on Tuesday, 6 November. 
In a perfect completion to a stellar year highlighted by Masar's Derby victory, Thunder Snow's Dubai World Cup and 27 other G1s, Cross Counter epitomised the Godolphin philosophy of pushing global boundaries and striving for perfection.
Cross Counter's triumph also capped a similarly brilliant year for his trainer Charlie Appleby and his team and for jockey, Kerrin McEvoy.
Appleby described the win as "everybody's dream".
"This is all down to Sheikh Mohammed, he's the one that's given us all the encouragement to take the chances in what we do internationally," Appleby said.
"This is all for Sheikh Mohammed and the royal family and Godolphin, and for me to say thank you for giving me this opportunity."
"I'm just in the very fortunate position to have a great team behind me."
Cross Counter's win came 30 years after Sheikh Mohammed began his Melbourne Cup quest with Authaal who carried his maroon and white colours in 1988 and 20 years after Faithful Son became Godolphin's first runner. 
While the task of getting Cross Counter to one of the world's most gruelling races in peak fitness was performed to perfection, it was the horse who produced the ultimate winning effort.
And he did so despite suffering a training setback and interference which also cost his stablemate Avilius any chance.
Cross Counter settle among the last few and stayed there until his rider Kerrin McEvoy called on him at the 800m.
"When I saw him down the back I thought he had to do a lot," Appleby said.
"And when he was making his run, I thought turning in that if he finds the gap then this horse has got the gears to pick up."
But the gaps didn't come his way and McEvoy had to switch around other runners to obtain clear galloping room.
And when he did, the relatively inexperienced Cross Counter rounded up a field of seasoned stayers and ran away from them to win by a length from Marmelo, with A Prince Of Arran in third place. All three placegetters were English-trained.
The win gave McEvoy his third Cup win, but it was Sheikh Mohammed who gave him his first chance in the race, putting him on Beekeeper who finished third in 2002, and that ride led to McEvoy joining the Godolphin team.
"It's such a huge thrill to win this for Sheikh Mohammed, to repay the faith that he showed in me," McEvoy said.
Cross Counter is part of Appleby's third Melbourne Cup missions for Godolphin.
"We've been competitive, but we've learnt more on each trip about what will make us more competitive," he said. "That's what it's all about, the learning curve. I'm just in a fortunate position to have the horses to make the call on which are the right ones to bring down here. 
"This is huge for everybody. For me, of course this is the biggest thing along with the Derby. This year has just been one of those amazing years."  
The victory had strong a connection to Sheikh Mohammed's Darley stallion operation through his sire Teofilo for whom he became a 15th G1 winner.
Cross Counter is also a member of a family with which Sheikh Mohammed has been involved through four generations.