Cody's Wish dominates again with G1 Met Mile rout
11 June, 2023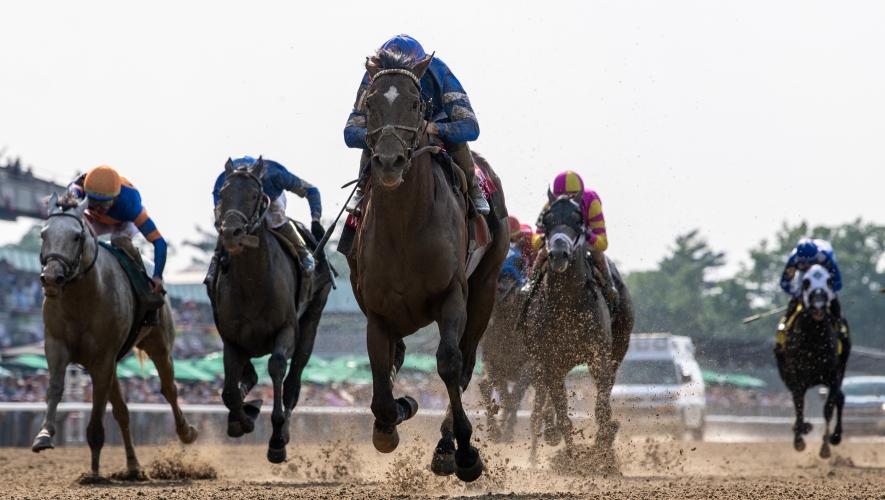 Cody's Wish recorded a fourth straight G1 victory as he unleashed another spectacular turn of foot to turn the Metropolitan Handicap into a procession at Belmont Park, USA, on Saturday, 10 June. 
A story that started with the remarkable bond between the Curlin colt and Cody Dorman, who was born with the genetic condition Wolf-Hirschhorn syndrome, had already surpassed a Hollywood script with victories in last season's Forego Stakes and Breeders' Cup Dirt Mile.
Cody's Wish powered home from the rear for a stunning victory in the Churchill Downs Stakes on Kentucky Derby Day and the Bill Mott-trained five-year-old again raced at the rear of the nine runners following a fractious wait in the gates and sluggish start.
After moving up a place down the back, Junior Alvarado switched Cody's Wish wide to deliver his challenge with three furlongs left and the Godolphin homebred stormed around to the field in a matter of strides to take up the running entering the straight.
Cody's Wish readily drew clear of his rivals, hitting the wire three and a quarter lengths clear of Zandon in the race colloquially known as the Met Mile.
Bill Mott said: "I thought Cody's Wish had a possibility of being a good horse before we ever ran him. It took us a couple of races to get him going in the right direction and to get him educated enough to where he knew how to use his run. He has finally figured it out.
"It's as heartwarming for me as it is for the fans watching. I had a lot of people tell me what a great story this is. For sure, it's a great story, but it goes along with a good horse."
Junior Alvarado said: "Cody's Wish broke good – it wasn't as bad as I thought it was going to be after the way he acted up in the gates. I was just trying to find my way to let him run. I knew how much horse I had under me at the three-pole and I found a seam on the outside.
"I tried to wait a little but there was a point when Cody's Wish was telling me that he was ready, so I wasn't going to get in his way. I let him roll and he proved that he was the best.
"I want to keep this going, especially with the story behind this horse. He is just unbelievable and I never want to get in his way of winning. That's the pressure, to try and not mess up things, but it's easy with Cody's Wish because he works with you. Last year was a little more of a challenge but he is an old journeyman now."