Cody's Wish enters Breeders' Cup folklore with G1 Dirt Mile repeat
4 November, 2023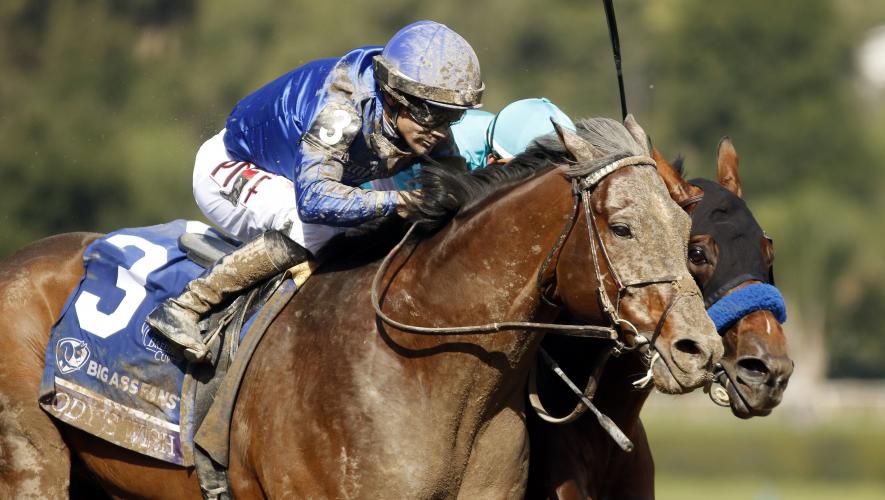 Cody's Wish joined an illustrious group of horses to win the same Breeders' Cup race twice as he courageously denied National Treasure in the G1 Breeders' Cup Dirt Mile at Santa Anita, USA, on Saturday, 4 November.
The five-year-old had gamely scored by a head over Cyberknife 12 months ago and returned to the end-of-season highlight having won three of his four appearances for Bill Mott this year, including scintillating G1 victories in the Churchill Downs Stakes and Met Mile.
Having been squeezed by Stage Raider and Zozos leaving the stalls, Cody's Wish adopted his customary position at the rear of the field before moving up a place after the first quarter-mile.
Cody's Wish had four lengths to make up on the majority of the field at the halfway point but started to close strongly soon after, quickening between horses to take third with two furlongs to race.
After taking second from Shirl's Bee turning in, Junior Alvarado switched Cody's Wish wide in the straight and the Curlin entire stayed on resolutely to join National Treasure approaching the final half-furlong.
National Treasure rallied strongly but Cody's Wish would not be denied, finding more close home for a nose verdict. The two horses made contact in the closing strides and Cody's Wish had to wait for the result to be made official following a stewards' enquiry.
Cody's Wish is named in honour of Cody Dorman, who suffers from the rare genetic disorder Wolf-Hirschhorn Syndrome and first met the horse as a foal at Godolphin's Gainsborough Farm.
The two have formed a deep and emotional bond ever since, and Cody has been present for the majority of Cody's Wish's victories. Once again, he was on hand with his family to emotionally greet the horse into the winner's enclosure.
Michael Banahan, Director of Bloodstock, Godolphin USA, said: "Cody's Wish is a phenomenal horse. He has been since day one, when we had him training down in Florida, all the way up through his two-year-old year with Bill. He has never let us down any time. He has a will to win.
"He was on the muscle today. What a great ride by Junior and a fantastic training feat by Bill – having a back-to-back Breeders' Cup winner is special. There are not too many horses to have done it, but he ranks up there with all the best of them.
"We're so fortunate to have him and so fortunate to share the story with the Dorman family. Hopefully there are going to be great opportunities for the Dormans to come out and visit him at the stallion barn when he gets there, and hopefully there will be some babies down the road. If Bill is still training, maybe we'll get some babies down the road as well, and we can do it again."
Bill Mott said: "It's a great story, an inspiration for a lot of people. To see what it has done for Cody Dorman and his family and a lot of people around him. Sometimes wishes do come true.
"I think Junior got his head in front and the way he felt, he said the other horse was never going to get by him. National Treasure drifted out into us and came out a couple paths. I think there was a slight brush and we probably brushed him back but it didn't knock either of them off stride."
Kelly Dorman, father of Cody Dorman, added: "It's a blessing I don't even know if I could even start to describe. In a lot of ways, I think that horse probably saved Cody's life. I know him and the horse has made a lot of lives better.
"The people that we've got to meet during this process – first and foremost, the blessing is today Cody's Wish put his head in Cody's lap. The next blessing is all the people we got to meet, like these guys sitting right here, the fans, the entire horseracing nation has been incredible to us. We're so thankful and grateful for that."