Sarah Guest named Employee of the Year at 2023 Thoroughbred Industry Employee Awards sponsored by Godolphin
20 February, 2023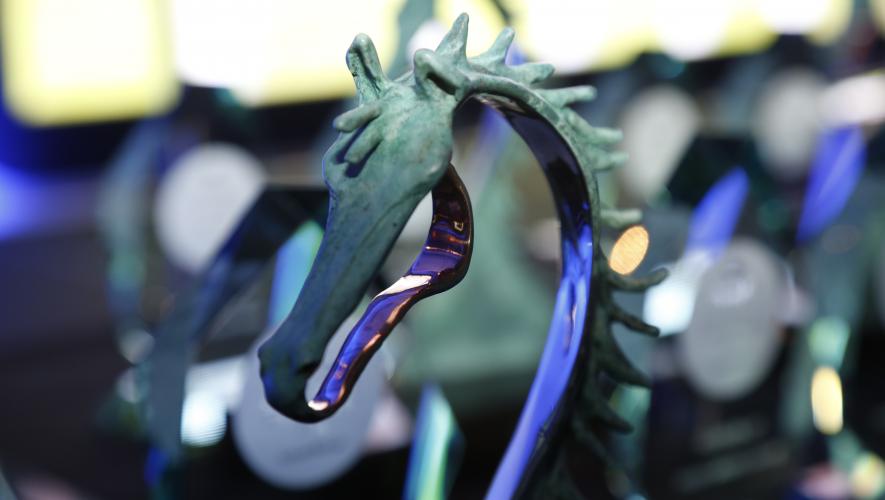 Sarah Guest, yard manager for trainer John O'Shea, has been named Employee of the Year at the 2023 Thoroughbred Industry Employee Awards sponsored by Godolphin, following a ceremony at York Racecourse this evening.
The Awards, previously known as the Stud and Stable Staff Awards, were presented in person for the first time since 2020 - and in Yorkshire for the first time - at an event bringing together individuals from across Britain's racing and breeding industry.
As a result of her win, Sarah took home £10,000, as well as a further £10,000 to be shared among her colleagues at John O'Shea's yard.
Earlier in the evening Sarah won the Leadership Award which carried prize money of £5,000, and the same again for her yard, meaning Sarah and her colleagues each ended with £15,000 following the ceremony.
Sarah was nominated for the Thoroughbred Industry Employee Awards by John O'Shea, whom she joined in 2005 and who described her as a role model who leads by example.
While competing and winning matters tremendously to Sarah, her primary focus is on providing outstanding care to the horses and guidance to her colleagues. Her calm and patient demeanour shines through in her understanding of the individual needs of each horse, while she also takes a personal interest in the welfare of staff. This is exemplified by her commitment to mental health support, having undertaken a specialist training course equipping her to support those in need.
Her leadership also shone through last year when John O'Shea was ill and out of action for three months. Sarah leaned on her initiative and determination to ensure the operation was able to continue through this challenging period.
The combined £30,000 claimed by Sarah was part of prize money totalling £128,500, generously offered by sponsors Godolphin, distributed during a memorable ceremony hosted by Francesca Cumani, familiar from ITV Racing. The Awards were organised by the British Horseracing Authority, in conjunction with media partners Racing Post and Racing TV, to whom the organisers are grateful.
Nick Luck, Chair of the Judging Panel, said: "Sarah is a richly deserving winner of this prestigious award and, despite the high quality of the finalists brought forward to this evening's ceremony, she was a stand-out selection to be named the Employee of the Year.
"There can be no doubting the importance of Sarah to the John O'Shea operation, which was demonstrated to greatest effect during 2022 when John O'Shea was unwell. Sarah is a shining example of the sort of hard work and dedication that keeps yards up and down the country running, and we as an industry can be rightly proud of her dedication to ensuring the wellbeing of her colleagues and the horses in her care.
"It is particularly pleasing to name an Employee of the Year from outside the nation's most powerful yards. I hope this encourages all employers, no matter their size, to nominate their staff for recognition in 2024."
Joe Saumarez Smith, Chair of the BHA, said: "I am thrilled to extend my congratulations to Sarah on her success, as well as all those who reached the final this evening.
"It was a pleasure to be able to stage the Awards in person once again and wonderful to bring them to one of racing's heartlands in Yorkshire.
"All of those nominated throughout the process of this year's Awards should feel rightly proud. They are a credit to themselves and I speak for all in British racing when I say a heartfelt thank you for all they do in being brilliant ambassadors for our sport."
The finalists for each category were (winners emboldened) were:
David Nicholson Newcomer
Amy Grieve – Rose Dobbin
Ryan Kavanagh – Amy Murphy
Stephanie Wing – George Scott Racing
Leadership
Becky Smith – Micky Hammond
Jessica O'Keefe – Venetia Williams
Sarah Guest – John O'Shea
Rider/Groom
Amy Vickers – Harry and Roger Charlton
Emma Tully – Susan Corbett-Girsonfield Stud & Racing
Rita Gillies – Lucinda Russell
Stud Staff
Andrew Rawlin – Blue Diamond Stud
Bethan Byrne – Godolphin Management Co Ltd
Davina Burrows – Deerfield Farm
Dedication
Claire Ricks – Marco Botti
David Crofts – Marcus Tregoning
Patrick McConville – Hascombe & Valiant Stud Ltd
The Community Award (In recognition of the wonderful work Rory MacDonald achieved at The British Racing School)
Gay Kelleway – For her work supporting Ukraine
Jo Foster – Community racehorse visits
Margo Walsh – The Jockey Club