Cascadian cracks it for a G1 in the Doncaster Mile at Randwick
10 April, 2021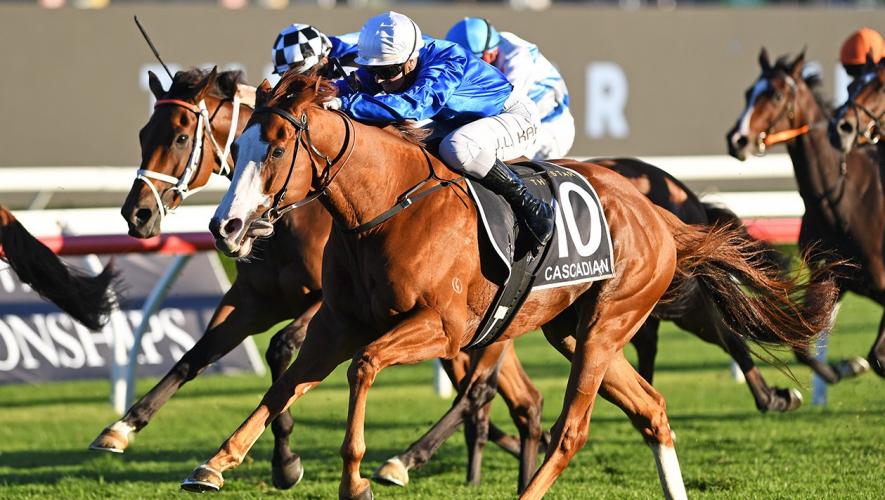 Cascadian stormed to the peak of his career and gave Godolphin one of its best days on an Australian racecourse when winning Saturday's G1 Doncaster Mile at Randwick.
On a program that included the win of Anamoe in the G1 Sires' Produce Stakes and Paulele in the G3 Kindergarten Stakes, Cascadian reaped a $1.74 million reward for his consistency and courage with his narrow win in Australia's premier mile race.
The team also added the Listed Dequettville Stakes in Adelaide to the daily haul, thanks to Cloudy who beat her stablemate Translation.
Cascadian's win also earned Melbourne's leading rider Jamie Kah the honour of being the first woman to ride a G1 winner for Godolphin.
For trainer James Cummings paid tribute to the worldwide Godolphin operation who recognised Cascadian's suitability to Australian racing and orchestrated his transfer.
Cascadian came to Cummings as the winner of three races in France and his Doncaster win was his second in his new home. He had also been placed three times at G1 among seven Stakes placings.
"To Liam O'Rourke and to all the guys, behind the scenes, in what is a magnificent blue army on days like this, we've got to be so grateful," Cummings said.
"When horses can come off the plane of his calibre we know that we're cooking with gas.
"While he hasn't won a heap of races since he's been here, we've worked out a few things with him, we just mucked around with him a bit this preparation.
"Twelve months ago he was winning a Doncaster Prelude and now he's got up and won the Doncaster."
Cummings also offered special praise for Kah who has a winning lead in the Melbourne jockeys' championship with more than three months of the season to run.
"We were very, very keen to try and book her for a lightweight ride in the Doncaster and we had a few jockeys circling," Cummings said.
"Once Cascadian come through the George Ryder last start with such a brilliant fourth and we got the opportunity to drop back in weight, Jamie's team were very happy for her to ride him.
"It didn't rely on me to make much of a point to her, she was very keen to be on him and she had the right plan. She thought about the race exactly the way we did and that's put us in the frame."
Kah said her tactics had evolved around one of Sydney's top jockeys, Hugh Bowman who rode Mugatoo in the Doncaster.
"I was talking to Hughie in the gates and said 'I'm going to follow you. I hope you win but if you don't, I am going to win'."
"In the end, we got a beautiful run, everything just opened up at the right time for him. He probably waited a little bit on the line, that is why I wasn't sure if I had got it or not. "
Godolphin had previously won the Doncaster with another import, It's Somewhat, in 2017.