US Thoroughbred Industry Employee Awards winners announced for 2023
17 October, 2023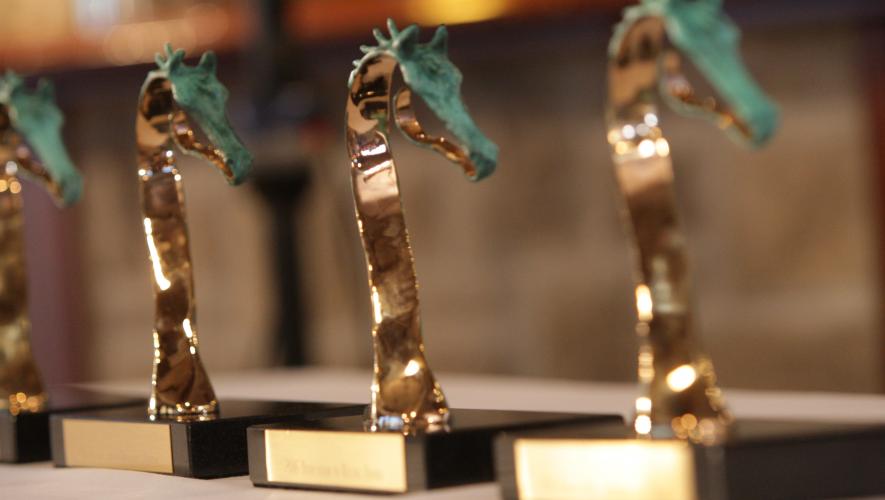 The Thoroughbred Industry Employee Awards, now in its eighth year in the United States, concluded this evening during an awards ceremony at Keeneland Racecourse's Entertainment Center.  Winners were announced in a total of seven categories with a total of $122,000 awarded. For the first time this year, in addition to the three finalists in each category, two alternates were also chosen and received monetary rewards. Todd Schrupp, FanDuel TV analyst, served as the master of ceremonies.
Tom Law, Saratoga Special Managing Editor and this year's judging panels chair, commented, "The winners and finalists honored at this year's ceremony, along with the alternates, are truly great representatives of the hard-working individuals in our industry. It's been said many times that they are the backbone of the industry that we all love; and it's absolutely true. And speaking for myself, as well as my fellow judges, we'd like to express our admiration for all the nominees and what they do for our sport."
The full list of winners, finalists and alternates are as follows:
Newcomer Award, sponsored by NYRA
Winner: Dominick Merritt, Exercise Rider, Todd Pletcher 
Finalists: Deja Robinson, Ed Brown Society and Nursing Staff Technician with Rood and Riddle Equine Hospital; Sara Gordon, Social Media Manager, Thoroughbred Daily News
Alternates: Adrianne Devaux, Cherie Devaux Racing Stable; Susan Kemper, Coolmore America/Ashford Stud
Support Services Award, sponsored by 1/ST Racing
Winner: Bill Vest, Backside Security Manager, Churchill Downs 
Finalists: Rita Cutler, Security Guard, New York Racing Association; Tracy Attfield, Owner, TLore Management
Alternates: Raul Gutierrez, Santa Anita Park; Julie Adair, Farm Owner 
Katherine McKee Administration Award, sponsored by Keeneland
Winner: Kelly Danner, Racing Operations Manager, Churchill Downs
Finalists: Jamie Bradley, Office Manager, Steve Asmussen Racing Stable; Samantha McGreevy, Sales Manager, Taylor Made Sales Agency
Alternates: Gwenn Pierce, WB Payson Park, LLC; Eleanor Poppe, New York Race Track Chaplaincy
Dedication to Breeding Award, sponsored by Hallway Feeds
Winner: Jimmy Tate, Assistant Broodmare Manager, WinStar Farm 
Finalists: Phillip Hampton, Stallion Groom, Godolphin; Rafael Zambrano, Farm Manager, War Horse Place
Alternates: Harmon Sullivan, New Vocations Racehorse Adoption; Abel Garcia, Four Pillars Holding, LLC
Dedication to Racing Award, sponsored by the NTRA
Winner: Myra "Mickey" Hall, Groom, Herringswell Stables 
Finalists: Kathy Sanchez, Assistant Trainer, Tom Amoss Racing Stable; Laura "Tils" Tilbury, Hotwalker, Todd Pletcher Racing Stables
Alternates: Carlos Davila, Craig Wheeler Racing Stable; Moises Morales, Groom
Leadership Award, sponsored by Hagyard Equine Medical Institute
Winner: Manuel Hernandez, Farm Manager, Walmac Farm 
Finalists: Gene Guy, Farm Manager, Glencrest Farm; Loretta Lusteg, Assistant Trainer, John C. Kimmel Racing Stable
Alternates: Juan Aguilar, Indian Creek Farm; Christine Jones, Pleasant Acres Stallions
Dr. J. David "Doc" Richardson Community Award, sponsored by Churchill Downs
Winner: Linda Doane, Lifestyle Program Director, The Healing Place/Churchill Downs
Runner-up: Francisco Barrera, Backstretch Employee Service Team
Alternates: Merlin Cano, Backside Learning Center; Diana Varon, Keeneland Racetrack Chaplaincy
Notes to editors:
1.The Awards are primarily sponsored by Godolphin in partnership with the National HBPA, TOBA, The Jockey Club, and Breeders' Cup. Media partners are the TDN, BloodHorse Publications, Daily Racing Form, The Paulick Report, Fox Sports, Real Players Inside the Backstretch, and FanDuel.
2.This year the awards received additional monetary and collateral support from category sponsors NYRA, 1/ST Racing, Keeneland, Hallway Feeds, NTRA, Hagyard Equine Medical Institute, and Churchill Downs.
3.The winners of the Leadership, Breeding and Racing, the Support Services, as well as the Administration category, will receive a prize of $7,500 to the winner, and their farm/stable also receives $1,000. Two finalists are each awarded $2,500, and their respective farms/stables receive $1,000. Separate from the winner and two finalists, two runners-up receive $2,000 each.
4.The winner of the Newcomer Award will receive $5,000 and $1,000 to their farm/stable. Two finalists are each awarded $2,500. Two alternates receive $1,000 each..
5.The winner of the Community Award will receive a prize of $7,500 with an additional prize of $2,500 going to the charity of their choice. The runner-up will receive $2,500. Two alternates will receive $1,500 each.
For more information, please visit the website: TIEA.org