Rare off-day for Cody's Wish with G1 Whitney Stakes third
6 August, 2023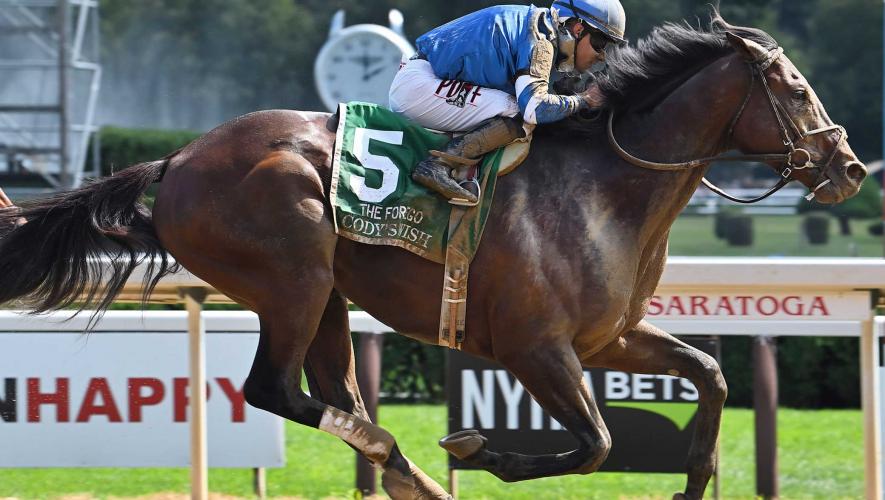 Cody's Wish met with his first defeat in seven starts as White Arbarrio and Zandon reversed the form with the four-time G1 winner in the Whitney Stakes at Saratoga, USA, on Saturday, 5 August.
The Godolphin five-year-old had readily beat both horses when storming home from the rear in the G1 Met Mile at Belmont Park and once again stalked the field in last following an awkward break in the nine-furlong G1 highlight.
Cody's Wish picked off Charge It and Last Samurai leaving the back and was produced wide by Junior Alvarado for a stretch run as White Arbarrio starter to lengthen away from his five rivals. The Bill Mott-trained entire was unable to unleash his usual kick and kept on to take a modest third inside the final furlong, going down by 10 lengths in total.
Junior Alvarado said: "When we were by the three-pole, I kind of knew that we were in a little bit of trouble. Normally, he makes beautiful runs in the turn and, even though he was picking horses, he wasn't taking me along on his own and I had to ask him. I could feel that he wasn't moving as quick as I wanted to.
"When we turned for home, I switched to the right and could feel he was steady, steady, and didn't quite have that good finish that he normally has over a mile."